MUSIC NEWS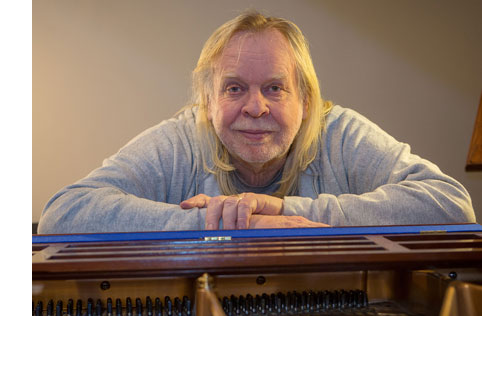 On April 7, rock icons KISS will release the next installment of their Off The Soundboard official live bootleg series with KISS – Off The Soundboard: Poughkeepsie, New York, 1984. Recorded live at the Mid-Hudson Arena on November 28th, 1984, during the Animalize World Tour, this is the fifth in a series of live releases by the band and will be available to stream and download, with a 2-LP standard black vinyl set, CD, and a limited edition 2-LP set pressed on 180g custard yellow vinyl which are available to pre-order now exclusively through the Official KISS online store.
The multi-platinum band's fifth authorized Soundboard live release comes from the November 28th, 1984 Animalize Tour show at the Mid-Hudson Arena in Poughkeepsie, NY, featuring the only known soundboard recording with guitarist Mark St. John. While the tracks "Young And Wasted" and "Rock And Roll All Nite" from this historic show are incomplete due to a tape change and tape space – these recordings were originally for archival use – this live recording is of historical importance due to St. John's appearance.
Keyboard legend Rick Wakeman will be releasing his new concept album "A Gallery Of The Imagination" on February 24, 2023 on Madfish Music. The initial idea for "A Gallery Of The Imagination" stems from Rick's first piano teacher, Mrs Symes, with whom he studied from the age five until his time at the Royal College of Music. She taught him that music was like painting pictures: that when you play, you are painting pictures through music, an important lesson that Rick never forgot.
Warner Music Group's (Nasdaq: WMG) Global Catalog Division has announced the acquisition of the recorded music rights and income streams from YES' Atlantic Records era catalog. More than 50 years after the British group's debut, YES remains one of the most successful, respected, and influential rock bands of all time, with more than 30 million albums sold worldwide.
This acquisition continues a longstanding relationship between the band and Warner Music that now spans over a half-century, beginning with YES' self-titled 1969 Atlantic debut album. The deal encompasses landmark works such as Fragile, Close to the Edge, and 90125. The full purchase includes 12 studio albums, as well as live recordings and compilations.
The band added in a joint statement: "The entire YES family came together and worked enthusiastically with Warner Music Group to secure this historic deal, ensuring that these iconic recordings will continue to be curated in the optimum manner to delight their fans across more than five decades, while also finding and developing new audiences for this timeless music."
British classic rock legends Ten Years After's "A Space In Time" new 50th Anniversary Remix will be available on 2CD and 2LP Half-Speed Master 180g Vinyl on March 17, 2023! "A Space In Time" is Ten Years After's sixth, and best selling album, and was originally released in August 1971. Featuring their most well-known track "I'd Love To Change The World," which regularly features in movies and TV shows, saw the band taking a more melodic direction from previous releases and showcased the band at their peak.
Night Ranger and Ace Frehley tapped as music headliners at the 23rd Anniversary Gettysburg Bike Week Motorcycle Rally July 6-9, 2023...
Grammy-award honouree, Songwriters Hall of Fame member, and BBC Lifetime Achievement Award recipient Don McLean will be bringing his American Pie 50th Anniversary Tour to Australia and New Zealand in 2023. Celebrating the 50th anniversary of one of the most iconic songs and albums ever this year, McLean will entertain fans across the two countries, proving that "bye-bye, Miss American Pie" will forever remain a classic staple in music. He will be supported by one of Australia's most revered singer/songwriters, Andrew Farriss.
"I am thrilled to be getting back to Australia with my band," says Don McLean. "2022 marks the 50th anniversary of when American Pie landed at the No. 1 spot on the Billboard chart, and we will be celebrating. We'll be performing songs from the American Pie album plus many of the other hits that fans will be expecting to hear."
Ritchie Blackmore spoke with Jungleroom.com about recruiting Jimi Jamison to sing for Deep Purple in 1989--"I had seen Jimi in Survivor and was very impressed. I remember going down to Tennessee to meet him and I really liked him as a person. He then came up to try out with Deep Purple. We did 1 song, I think it was "Going Down" and he was so good I immediately stopped playing and just said "Youre in!" He said "Dont you want to do more songs?" I said "No, You are so damn good, I know that you are perfect for the job." We went out and celebrated at a restaurant. I was full of ideas due to his melodic soulful voice and he could improvise much better than a lot of singers I knew so he had every aspect I was looking for in a singer. Very, very nice guy. Very humble. Unfortunately, 2 weeks later, we were told he couldn't join the band. We never found out why. I think it had something to do with the management. I was surprised and saddened by what happened and it was a mystery to me what had gone down. It was a bad moment for me. I rated him as one of the top singers in the country. "
The stars will align to celebrate the 20th Anniversary of the Gertrude C. Ford Center for the Performing Arts in Oxford, Mississippi on March 25, 2023. It will be a thrilling evening hosted by Oscar winner Morgan Freeman and starring eight-time Grammy Award winners Marilyn McCoo and Billy Davis, Jr. The Gala evening will honor Sam and Mary Haskell with the prestigious Concerto Award, presented by the Ford Center, for their extraordinary patronage...
Legendary YES vocalist/songwriter Jon Anderson will be touring with The Band Geeks in Spring 2023. The ensemble will be performing classic YES tracks including "And You and I," "Starship Trooper," "Heart of the Sunrise" and epic works like "Close To The Edge," "The Gates of Delirium," "Awaken" and others!
Johnny Lydon (the Sex Pistols, PIL, etc.) amd his manager John "Rambo" Stevens shopped for "Elvis attire" at Lansky's in the Peabody Hotel during his recent Memphis visit. Lydon told jungleroom.com that he was "bitterly disapointed about not working with Michelle Williams" after the cancelation of Andrew Llyod Webber's "Jesus Christ Superstar" arena tour...
Steve Fossen, the original bassist in Heart shares some insight into the early days of the band with Jungleroom.com. "Heart started out as The Army in 1967 (October 1968 we became Whiteheart ... October 1969 we shortened the name to Heart). Roger (Fisher) and I met Ann in August of of 1971 ... we all played in a band called Hocus Pocus until December 1971. On April 21, 1972, we changed our band name back to Heart. Nancy joined us in 1974. "Dreamboat Annie" was recorded in 1975 released in America February 1976.
Young guitarist Chandler Smithers (known as the "Flamingo Kid") is all the talk of Memphis musical circles. Check out his band Memphis Mojo that includes Nate Matlock, Graham Whitworth and George Smithers...
Barnes Crossing Mall customers and staff were shocked when Alice Cooper made a suprise afternoon shopping visit to JC Penny before his concert at the Bankcorp South Arena in Tupelo. Opening act Ace Frehley left town with a new pair of "Elvis" socks thrown onstage from a fan...
Andy Black and David Beaver have released Can You Feel It?, their new album utilizing the finest musicians in Memphis. The unmatched skills of Joel Williams, Josh Haynes, Greg Reading, Evan Leake, Jimmy Tarbutton, Gene Ninez and Jaime Roberts are featured...read more
Memphis musician Robert Johnson (Isaac Hayes, John Entwistle's band Ox, the Staple Singers, etc.) received a huge thank-you from Greg Gutfeld on his show "The Five"...
I asked Bob Tait if he remembered playing at Peaches Records with a group named Wyzard. "You are the you the first person I've heard mention that band in years," he said. "Wyzard was Debra Preston (who later became Debra Dejean) on vocals, Delmar Preston on guitar, myself on bass and Chuck Bratton on drums. We opened for Meatloaf at the Ritz on Madison avenue the first time he appeared in Memphis on the "Bat out of Hell" tour. We opened for alot of bands coming thru memphis and bigger bands from here. Today, Bob plays bass in 5 O'Clock Shadow with Gary Hagar and Bill Parsley.
Wendy Moten and her hand picked group of stellar Memphis musicians (Carlos Sargent, Gary Goin, Kurt Clayton, Candace A. Gray, Katrina Anderson, Shunta Mosby and Doc Samba) charged through both of her amazing sold out shows at the Hallorean Center...
Sartoris Literary Group announces the release of Chips Moman: The Record Producer Whose Genius Changed American Music, available wherever fine books are sold. It will also be available online in various eBook editions. "I think the Chips Moman story has provided me with the best book I have written since Colonel Tom Parker, which was purchased by Warner Bros. for its Elvis film starring Tom Hanks," says author James L. Dickerson. "I anticipate great interest in a movie based on Moman's story. Small wonder. He has been called the "Steve McQueen of the music business."
Jim Peterik, the keyboardist/songwriter for Survivor (he wrote "Eye of the Tiger", "Burning Heart", "I Can't Hold Back" and "High On You" for Survivor, "Vehicle" for the Ides of March and other hits for Sammy Hagar, 38 Special, etc.) was a smash with the "Jam for Jimi Jamison Tribute" at the Hard Rock Cafe in Memphis...